Product Description
GV-AS1620 is a single door controller with three types of interfaces, Wiegand, RS-485 and TCP/IP, to accommodate various readers for entry and exit management. Through its I/O pins, it provides not only basic door operations but also alarm, tamper and fire senor applications, as well as allowing LEDs connected to indicate an access granted and denied.
One door IP controller (entry and exit)
3 types of interfaces, Wiegand, RS-485 and TCP/IP, supporting 2 readers for each interface
4 digital inputs for door contact, exit button, fire contact and tamper contact
4 relay outputs for lock, alarm, 2 LED for an access granted and access denied
DC 12V, 3A / PoE+ (IEEE 802.3at)
Suitable for door, parking lot and elevator controls
Stores up to 100,000 cards
ONVIF (Profile C) conformant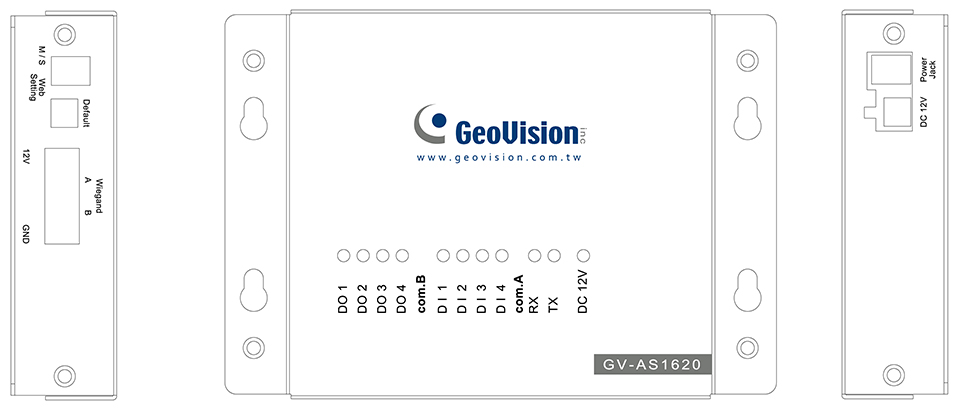 Model No
Name
Details
GV-IB25 / 65 / 85 Infrared Button
The GV-IB25 / 65 / 85 Infrared Button detects infrared movement within 3 to 12 cm and allows you to open the door with a wave of hand.
GV-POE Switch
The GV-POE Switch is designed to provide power along with network connection for IP devices.
The GV-POE Switch is available in various models with different numbers and types of ports.
Push Button Switch
The push button switch can be integrated with access control system, allowing door exit by momentarily activating or deactivating the electric locking device. Both American standard and European standard push buttons are available.
Electric Lock
Three types of electric locks are available: electromagnetic lock, electric bolt and electric strike.
GV-AS ID Card / Key Fob & GV-UHF Tag
GV-AS ID Card and GV-AS ID Key Fob are ideal for business and residential environment, where access control is important for security reasons. 125 KHz and 13.56 MHz cards and key fobs are available. GV-UHF Tag is ideal for parking lot management. 900 MHz UHF Tag is available.
GV-WTR
GV-WTR is a converter designed to support Wiegand interface to RS-485 interface, thereby enabling 3

rd

party readers to be connected to RS-485 GV-Controllers. Through the GV-WTR, Wiegand-interface readers can be easily combined to access control systems for improved versatility.
Power Adapter
Contact our sales representatives for the countries and areas supported.
GV-FWC
GV-FWC can integrate GV-Face Recognition Cameras and GV-AI FR into access control systems by sending access card data, paired to Face IDs, to controllers either through TCP/IP or Wiegand connection.
Product Videos
Custom Field
Product Reviews